Uptime Matters
New normal, new expectations
The year gone by was undoubtedly the toughest year one would have seen in many decades. The pandemic that started in March brought the whole country including commercial vehicle industry and over 10 million trucks to a screeching halt — paralyzing cargo movement completely. While the economy has now started reviving, various industries are still facing the adverse effects of the last year. Hence, it is critical now for every sector including transportation industry, which is the backbone of the economy and the barometer of the economic health of the country, to work harder, non-stop to make up for the lost time.
What will matter now is efficiency, and to achieve that, every company whether they are into on-road logistics or off road applications, will need to optimize their performance by using trucks that deliver enhanced performance, higher productivity, more trips and higher uptime in this ever changing business scenario post pandemic. Today there is a need for a partner that can help these companies deliver beyond the usual norms with a smart combination of highly efficient products and customized services
Robust products with Uptime at their core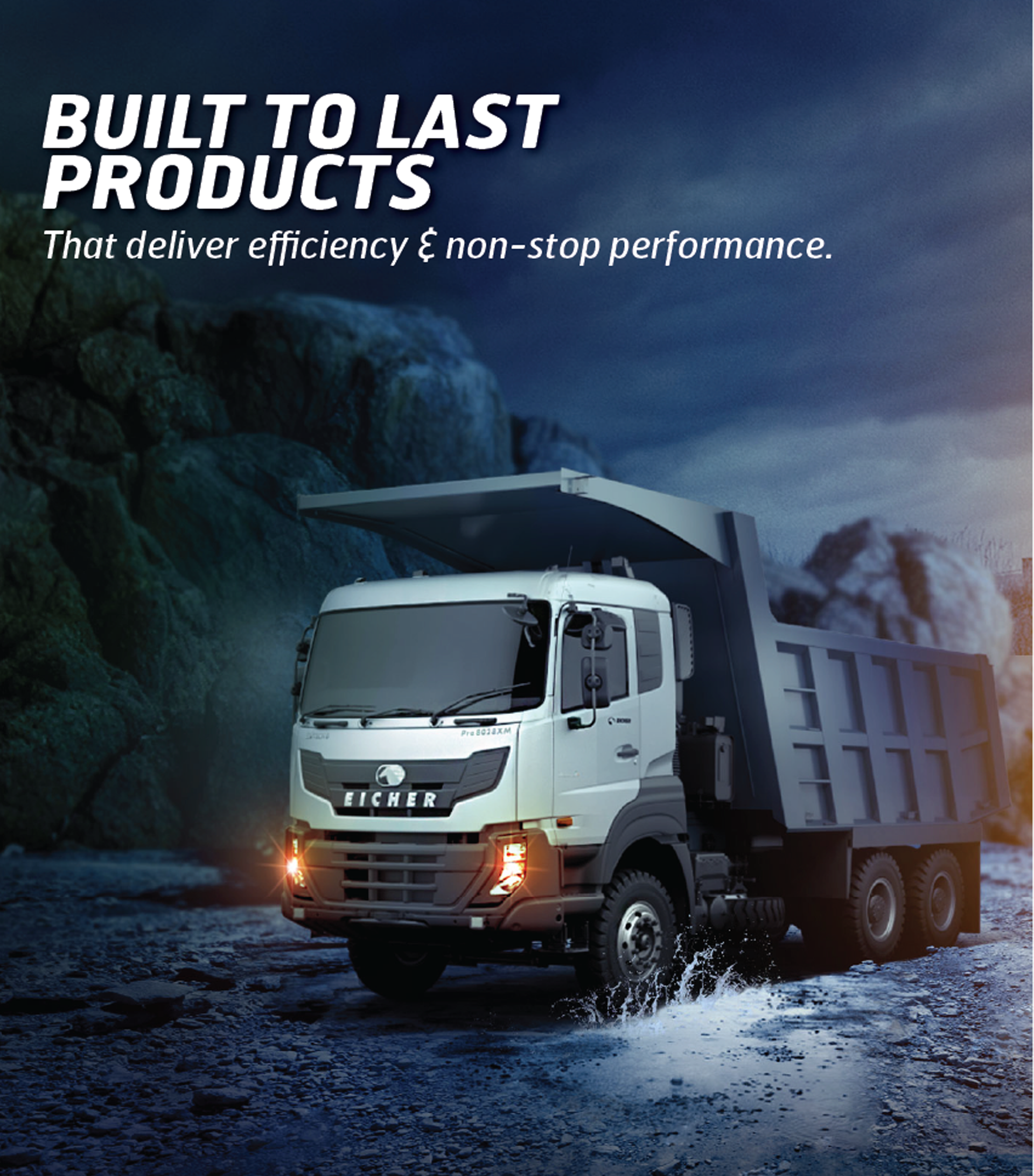 Delivering these unique propositions, Eicher with always a customer-first philosophy offers a compelling ownership experience with performance, reliability and competitive total-cost-of-ownership. The company over these years, has remained at the forefront to introduce trucks with higher power & torque combinations by bringing Pro series of Trucks with the world class technology, modern cabin & intelligent features that offers higher productivity.
Continuing with the same philosophy, Company's all-new EUTECH6 trucks have been tested for 5.6 million Kilometers. These products are built on the proven Volvo Group Engine technology that has set benchmark in the industry for Uptime. One such example is the Pro 8000 Mining trucks that have crossed 36,000 engine hours in 5 years. These trucks are built with Robust & Durable aggregates coupled with Engine Protection System that ensure our Trucks keep on running.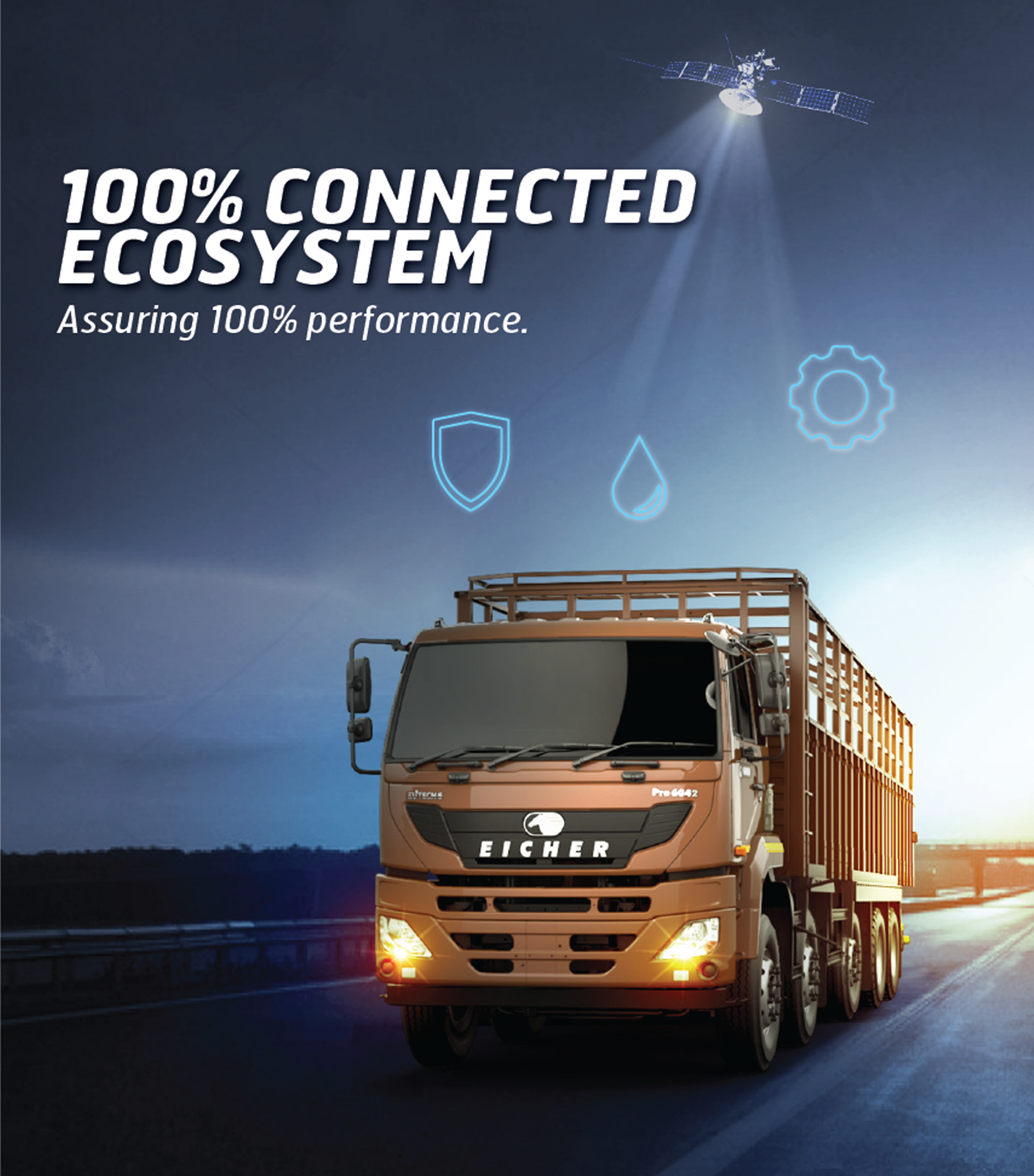 A 100% connected ecosystem
In the age of technology, fleet owners today expect more visibility on the status of their vehicles and respective parts and what services are required. Addressing these, the company has made significant investments in its digitalization initiatives. It was one of the first manufacturers that introduced advanced telematics in the industry called 'Eicher Live'. Eicher Live is India's most comprehensive telematics solution for enhanced productivity and increased profitability, available as a standard fitment across the complete range of trucks & buses. It provides real time dashboard data analytics of the fleet, tracking the most important factors including fuel management and remote fault identification thus allowing customers to plan their operations & maintenance.
The company has also set up an India's first Uptime center, a technologically enabled facility dedicated for Uptime situated at Pithampur, that works around the clock in order to remotely detect the faults in the trucks running anywhere in India and provide them the required support thereby consistently ensuring superior uptime to customers. It has invested heavily on improving Uptime of Eicher vehicles by shifting from reactive to proactive to predictive approach towards vehicle upkeep with real time information sharing. All this work is part of company's ongoing strategy to build products that last, ensuring 100% connected ecosystem and offering customized services for our customers.
THE IMPORTANCE OF UNSTOPPABLE EXPERIENCE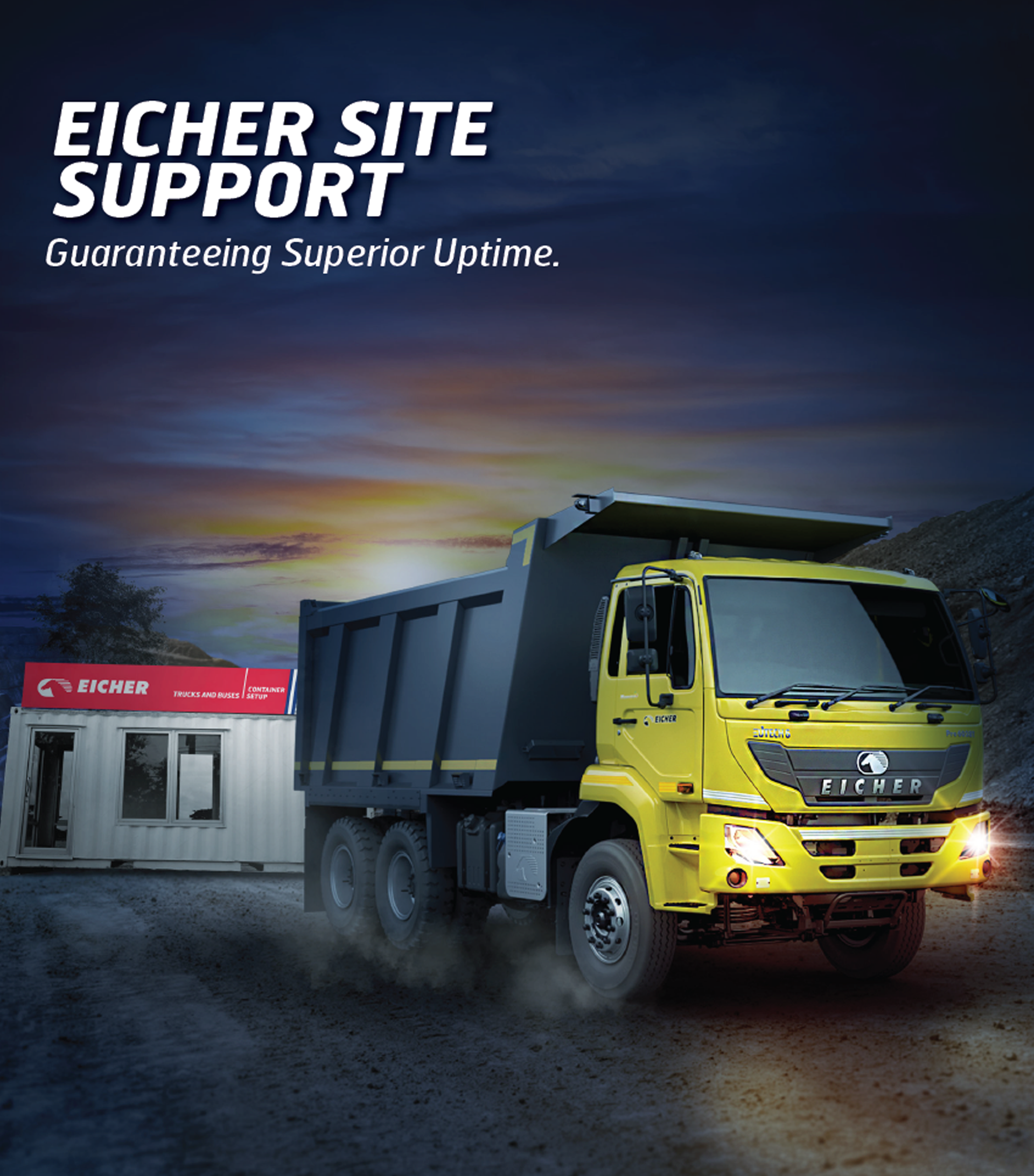 Now, when it comes to delivering Superior Uptime, it's not just products but people & processes and a partner that can deliver beyond. Ensuring trucks are always running means being available wherever your trucks are. Eicher was one of the first to introduce Eicher On-Road Service (EOS) in the industry that provides round-the-clock assistance to customers. This becomes extremely crucial to support on long-haul applications when customers cannot afford a lost schedule. To get back on the road, as quickly as possible is a priority.
Furthermore, to ensure a seamless service experience, Eicher has been developing an ever-growing robust dealership network. It offers 350+ GPS enabled EOS vans with expert technicians and tools, 480+ wide dealer network across country, customer touchpoints (including retails centres, Site Support, EGP Shoppe) close to 3200+, Eicher ensures we are with you whenever you need us, anywhere and anytime.
The company has also introduced Eicher site support especially for mining & construction customers where the sites are mostly remotely located and need hassle-free support 24X7 to ensure the projects run smoothly and timely.
At Eicher, customers have always been at the center of any initiative, the company understands that for customers to become prosperous their trucks need to operate continuously. Delivering these unique propositions, Eicher Trucks, today are fully prepared to meet demand and are supplying high productivity, robust products that are reliable with a high service life and have proven their mettle under tough operating conditions across a variety of applications.
Subscribe Now
Get updates on our latest blogs