Fleet Management becomes a Cakewalk with My Eicher
Managing a fleet of trucks that crisscross the length and breadth of the country every day with some of the most essential goods is no mean feat. Fleet managers have the most important responsibility of tracking every single vehicle, their routes, maintenance, safety, driver performance, adherence to rules, etc. With so much at stake, a streamlined process with the minimal manual intervention was just the need of the hour. As mentioned in one of our earlier blogs, My Eicher is the perfect solution for seamless fleet management. The app helps fleet managers and fleet owners to be well-informed about every little detail of their trucks and adds to the profitability of their business.
Solutions are now a click away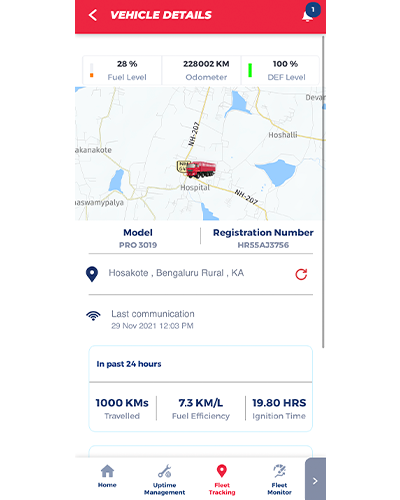 As a fleet manager, one has to make a hundred phone calls to track their trucks, which may sometimes lead to miscommunication and confusion. With this app, all of that can now be buried as stories of the past. Technology has made monitoring daily transport operations much easier and way more streamlined. With My Eicher, you can start with assigning drivers, creating vehicle groups and Geo Zones, setting alerts, and scheduling reports. While these features can enable a smooth journey for your fleet, there're more features that help in ensuring a superior uptime. In fact, the most important feature of the app is that it helps you track your vehicle throughout its journey. And, in case you want to know where your vehicle was at a given point in time, you can always check that through the route playback option. In fact, you can check where all your vehicles stopped and for how long. You can even get real-time alerts for any untoward incident with regard to driving like over-speeding, harsh driving, etc. Things like fleet summary, the status of past 24-hour operations, and fuel and DEF levels can be tracked, and you can alert the drivers if required.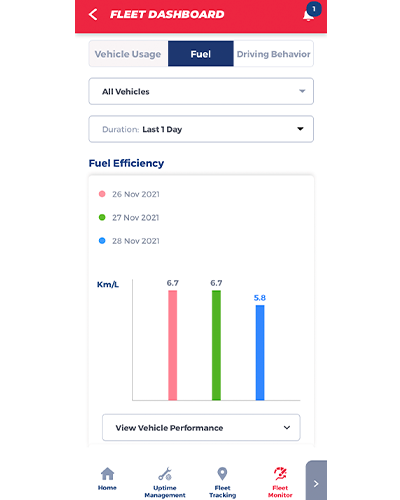 Sneak peek at the vehicle's performance with My Eicher
While the app enables fleet managers to track the daily operations of the vehicles including heavy-duty and light trucks such as tippers, haulage, etc, fleet owners can make the most of its features to drive improvement in fleet performance. As a fleet owner, you can monitor the trends that your trucks have been following and identify areas for improving productivity and efficiency. Three things that can help you understand performance changes are fleet utilization, fuel efficiency, and harsh driving. You can set targets on these three primary parameters and watch out for underperforming vehicles as well as monitor which vehicle is performing better than others.
The whole idea of My Eicher is to bring together fleet owners, fleet managers, and our teams on a single platform. Fleet management is one of the most essential parts of the commercial vehicle sector. If a few clicks on the app can simplify all the tasks attached to it, then the lives of all stakeholders become easier, thereby increasing profitability.
Subscribe Now
Get updates on our latest blogs