Ensuring maximum uptime through 100% connectivity
Heavy Duty trucks can be easily termed as the lifeline of a country's economy when it comes to long-haul transportation. It is extremely crucial to keep them up and running as they operate on time-bound deadlines on long routes across the length and breadth of the country.
But the on-road difficulties of a long-haul journey are many, and for HD truck customers, Uptime is extremely crucial for both productivity and profitability, thus, keeping their businesses afloat. However, if backed up by a well-planned support system, achieving solutions to all these challenges is not a difficult proposition.
Every second of successful uptime leads to increased revenue, maximized efficiency, and better business opportunities.
Eicher Uptime Centre — Bridging the gaps with man-machine collaborations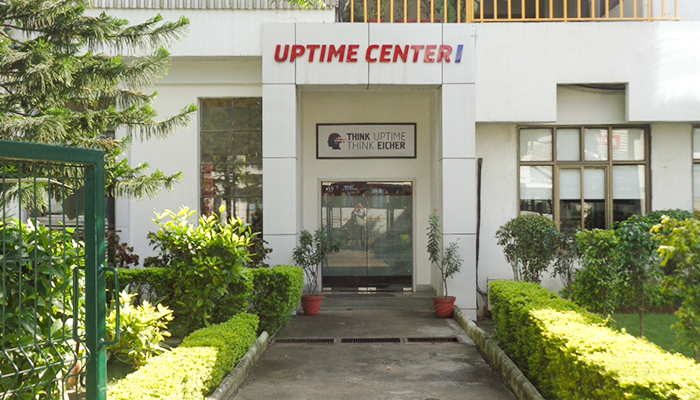 The basic checklist of any HD truck owner includes vehicle performance, maximum availability on the road, 24x7 end-to-end service support, and now, increasingly, superior driver comfort. Eicher is continuously improving its technologies to support the customers through the lifetime of their trucks. Its support solutions address the concerns of the customers and resolve them with convenience. To this end, Eicher Uptime Centre was introduced at Pithampur - a first of its kind in India. Experts at this state-of-the-art control room are fully equipped to remotely detect faults in trucks, provide support, and address all unplanned repairs. They are also capable of proactive monitoring of truck's data to help predict potential failures before they occur irrespective of time and place. Thanks to the immense innovation in technology, real-time information through predictive analytics, being unstoppable on-road has become an achievable feat.
Seamless customer services through digitalization
Since heavy-duty trucks operate across the country, the fleet manager has to rely on the drivers for updates on the truck's performance. Eicher is the first OEM in India to offer 100% Connected Trucks and Buses with real-time monitoring to ensure proactive support to the customers. With the help of Eicher Live Telematics, the company provides its customers much more than just track and trace which was offered by traditional telematics.
So now, the customers can analyze all in one place —driver performance analytics, how to improve vehicle uptime, and how to improve the overall fleet efficiency.
Incoming data from a truck's after-treatment, engine and power management systems, along with key vehicle health indicators are conveyed to the Uptime Centre for processing and analysis. Based on these inputs, the Eicher Uptime Centre can provide immediate help in multiple regional languages and resolutions by engaging directly with the driver/fleet manager, customers, and channel partners.
Predictive Action – the extra edge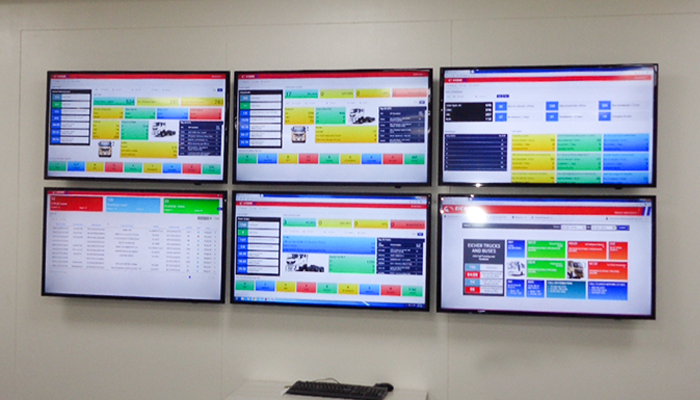 The commercial transportation industry is becoming advanced, intelligent, and efficient with each day. And, to meet the ever-stringent timelines and delivery schedules, the customers and their fleet need to be "unstoppable".
So, to support the customers, the manufacturers need to now move from a reactive to a more predictive way of working, ensuring the system is well-prepared to keep the wheels moving.
Here's an example of how the Eicher Uptime team was able to use their capability of predictive diagnostics to save both time and money for one of our customers.
The team spotted an issue with the truck's engine oil sump while continually monitoring a running HD truck's engine oil pressure and immediately informed the driver about the low oil pressure, instructing him to stop the vehicle. This predictive action with subsequent diagnosis helped in averting a scenario that would have been detrimental to the life of the engine. It also saved the customer considerable hours of downtime.
In the vision of making HD trucks unstoppable, this incredible support system is a focal point for Eicher and has already started bearing fruits, delivering >98%* uptime in many demanding applications like e-commerce.
*on select routes and for specific loads
Subscribe Now
Get updates on our latest blogs