Pro 2000 Series – Driver Comfort Ka Badshah
The trucking industry has evolved a lot in the last few decades. There has been an influx of technology and today's average truck is a far more capable machine as compared to what was the norm earlier. However, what has not kept pace with that changing scenario is the plight of our truck drivers who continue to toil on their long and hard hauls. 
Truck Drivers - Then and Now
Here is a fact - In 1982, India had 1,300 drivers for every 1,000 trucks. The average number levelled at 1 driver per truck in the early 90's. This number has dropped to about 600 drivers for every 1,000 trucks in today and is expected to drop further over the next couple of years (Source: CV Industry). Surprising as that is, it leaves no scope for wondering why there is an alarming shortage of drivers across different trucking applications in the industry. Firstly, truck driving is a tough and demanding profession which has struggled to garner the right kind of respect. With more opportunities, provided by the likes of app-based cabs, the new generation of drivers are opting for an easier mode of income. Secondly, there is a shift away from the profession of driving trucks because the remuneration and perks are not at par with the other driving jobs.
Logistics and transportation contribute to about 14% of India's GDP, which is higher than that of developed nations like the US and Germany. It is time to think over the predicament of our truckers, who are one of the most important cogs in the wheel of our economy yet belong to one of the most unorganised employment sectors.
Drivers of the Economy
This highly productive community of truck drivers needs to be looked at and treated differently without any preconceived notions, as they brave against all the odds and keep the country going. In India, about 60% of freight transport happens by road. To keep moving at a faster pace, our truck drivers cannot be overlooked. Here is what we think about this at Eicher -
Another step which the industry needs to take is to make the trucking profession more comfortable and attractive. We, at Eicher, understand this and have been making a conscious effort to bring driver comfort in focus as a major buying factor for the customer. This is a win – win for both the transporter, who gets higher productivity from his investment and the driver, who gets an enhanced driving experience with superior comfort. Ultimately, this is a key aspect which will attract budding drivers to the industry. It is this philosophy which has driven the design of our new state-of-the-art and industry's first next-gen cabin in our all new Pro 2000 Series which is now available from 4.9 Tonne to 16 Tonne.
Pro 2000 Series - Comfort Ka Badshah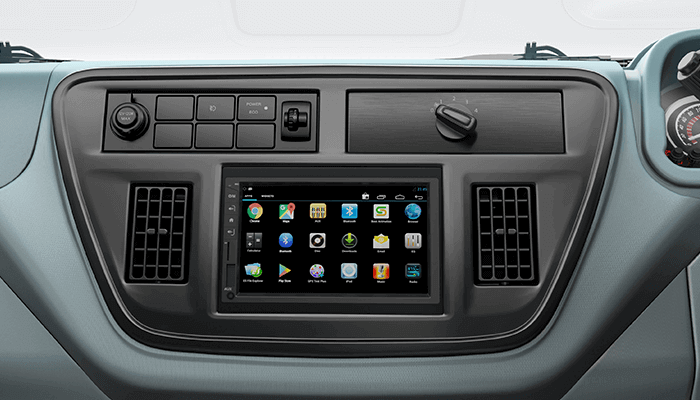 Smart cabins in Pro 2000 Series have been designed with a touchscreen infotainment system with micro SD card, USB, FM, and Bluetooth making it almost at par with features in some premium hatchbacks. It is developed in conjunction with the current times and resolves the basic needs of connectivity. These cabins are also 10 degrees cooler than our previous range of trucks and have the highest seats (180mm) in the industry with lumbar support in back cushion to help the driver cover long distances with comfort and ease.The power-assisted steering wheel and light clutch reduces the driver's fatigue. It is also equipped with Fuel Coaching for assisting the driver in maximising fuel efficiency.
The Pro 2000 Series' driving experience is a notch above other Light CV Trucks in the industry. This series is built to mesmerize and is engineered for the next level of driving dynamism. With immense pride, we are glad to share the success story of our customer, Krishna Flowers at Tamilnadu, who has covered 1 lakh kilometres in 100 days with Pro 2049, keep watching this space for more on this.
VECV has always driven modernisation in the CV industry and we will continue to revolutionise the trucking experience for the country and the developing world.
Subscribe Now
Get updates on our latest blogs