My Eicher: Business On Your fingertips
The world, as we know it today, has undergone significant changes from what it was even a couple of years ago. The pandemic has brought immense advancement in every aspect of life, especially in technology, that was not seen in the past two decades. Staying connected 24/7 is now a part of life. The commercial vehicle sector, too, has caught up with this trend and all stakeholders have adapted to it much faster than expected. Real-time tracking, fleet management, remote diagnostics, etc., are now fast becoming a norm in order to increase productivity. Leading this evolution is our latest platform which goes by the name - My Eicher.
Productivity through connectivity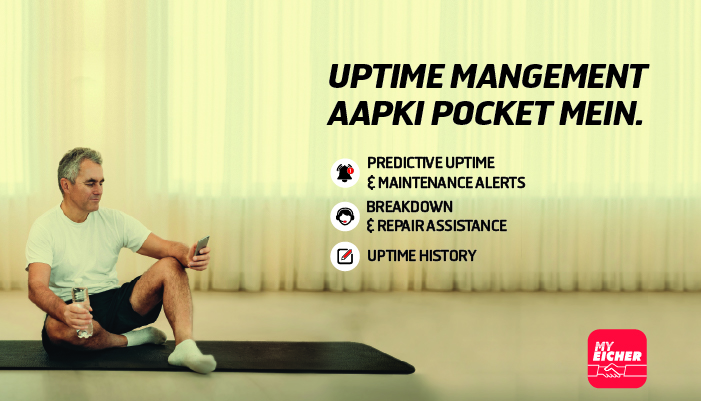 No matter which part of the country you are located in, as a fleet owner or manager, wouldn't it be great if you could always keep track of your fleet! That's exactly what My Eicher offers you. A consolidated platform where you can access and manage every little aspect related to your fleet — assign drivers, track fleet movement, set targets, monitor performance, get reminded of maintenance schedules, register for service booking and breakdown, access product information, manage documents, etc. It is literally a host of services at your fingertips and is accessible both on the laptop and a very friendly app on smartphones.
The three most important features covered by My Eicher are — fleet management, uptime management, and value-added services. Now, let us dig a little deeper to learn more about each.
Fleet management is one of the vital parts of the commercial vehicle sector. It is directly related to revenue generation because anything going wrong with the fleet directly impacts the business. My Eicher keeps you connected to your fleet all the time. From route planning and real-time tracking to macro-level planning, the app gives you complete control of your fleet. Special features include live vehicle location, fleet summary, route playback options, real-time speeding alerts, etc. For fleet owners, monitoring trends on the app can help in identifying fleet improvement areas like curbing harsh driving and excessive stoppage, ensuring fuel efficiency and profitability, and much more.
Uptime management is key for commercial vehicles. No fleet owner or manager would want unplanned stoppages and breakdowns leading to unnecessary downtime; it has a direct impact on revenue. Religiously following some simple things like reducing breakdowns through regular maintenance, ensuring load safety, curbing non-compliance, etc. can bring in a lot of positive changes. Through My Eicher, you get alerted of maintenance and productive uptime, can track real-time repair and breakdown, and register for services. Maintenance reminders, predictive uptime notifications, scheduling workshop service, monitoring workshop repair, and easy access to service history are some of the most helpful features of this app.
In a world driven by cloud storage, securing your fleet-related documents in digital lockers is an amazing feature. With My Eicher, you get to use this feature in real-time and also set expiry reminders. If you are planning to add to your fleet, the app will also help you with product information. Other services available include hassle-free policy issuance and renewal, interactive driver engagement content, and all kinds of support, grievance redressal, and solutions to queries.
With My Eicher, your journey with us gets enhanced and streamlined. The more connected we are, the better it is for optimum utilization of products and maximizing profitability.
Subscribe Now
Get updates on our latest blogs