Carriers of Hope - Eicher Reefer Trucks
A sudden jolt with an unforeseen second wave of Covid-19 has made us all realise how important it is to be safe and responsible. Safety of not only ourselves but of the family as well is now a responsibility which we owe towards the larger community. The second wave has been challenging for all of us and has tested our nerves and steel to the limit. Therefore, we would like to express our sincere gratitude and admiration for all the healthcare workers, friends, family, colleagues, organizations, and everyone who came together to fight through this pandemic and helped each other to the best of their abilities.
The declining number of cases and improvement in the recovery rate gives us hope. However, this positive trend must now be further fueled by remaining cautious and above all getting ourselves vaccinated. A successful and urgent vaccination drive is a proven antidote to ensure the safety of our people going forward and we are privileged to play a role in how this modern-day elixir of hope gets delivered to each and every corner of our vast country. Our range of Reefer Trucks has been able to meet the need of the hour as reliable carriers for vaccine transportation.
Understanding the Supply Chain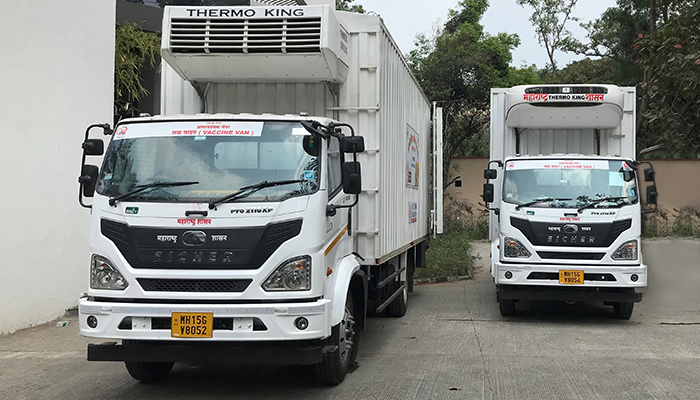 COVID-19 vaccination program began in January 2021 for the healthcare workers in the first phase, and in early February it expanded to include frontline workers. In the second phase, which began on March 1, people aged above 60 years and those above 45 years of age with co-morbidities were included. India is a vaccine powerhouse that makes 60% of the world's vaccines and therefore, vaccine handling and distribution is not new to India. However, the scale of the COVID -19 vaccination drive is unforeseen as for the first time in years the entire adult population in the country is queuing up to get themselves vaccinated. Consequently, India's COVID-19 vaccination campaign is the world's largest vaccination campaign which aims to cover a population of 1.3 billion people.
To carry out this largest vaccine drive, the most critical part is the logistics and transportation in the controlled temperatures of 2°C to 8°C. The vaccine is transported to major cities from the manufacturing unit via air, from where they are transported to cold storage via light and medium-duty reefer trucks like our Pro 2000 Series of Reefer trucks. These reefer trucks are then used to transport these vaccines from cold storage to local vaccination centres. It is essential to transport these vaccines in the correct temperature range, which is difficult considering that temperatures in India rise up to 50°C during summers. Hence, the uptime and reliability of these reefer trucks become critical in this entire journey of the vaccine to maintain it at the right temperature and keep the fragile doses intact.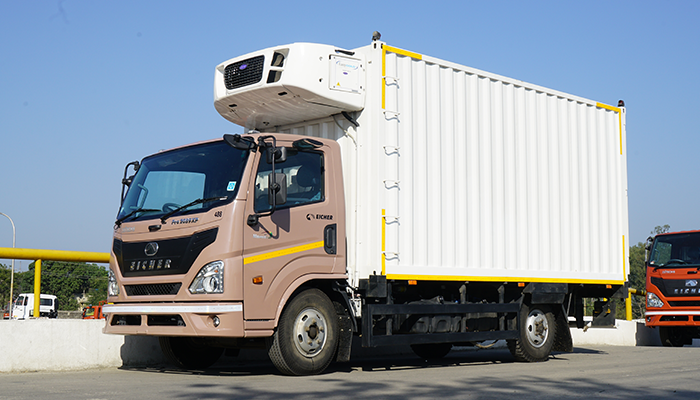 A reliable range of Reefer Trucks
Considering the urgent need for transportation of COVID-19 vaccines, Eicher was quick to react and introduced a fully built solution of reefer trucks, suited for this most critical transportation of vaccines. These reefer trucks are now available with BSVI technology and capacity ranging from 4.9T to 16T GVW.
The fact that these trucks are equipped with EUTECH 6 technology with a highly reliable engine means that they have considerably higher Uptime and stay on the road. Most importantly, they easily maintain an operating temperature range of -25°C to +25°C and with the help of features like 7 Speed*, Cruise Control and Easy Drive, their trip times to destination are less. This again plays a very important role in the transportation of vaccines.
For keeping the trucks on the move always, we have a holistic 360-degree service support system at Eicher. These trucks are 100% connected with Eicher Live and are backed by 24x7 support from Eicher's Uptime Centre. A connected ecosystem further helps these trucks to be on the road and reach their destinations on time.
Let us get Vaccinated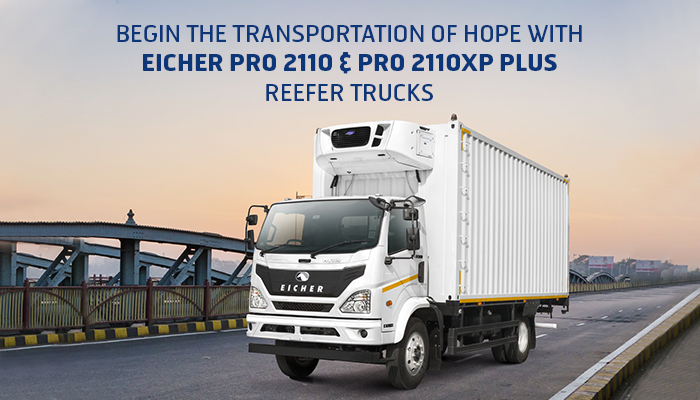 Since the onset of the vaccination drive, everyone involved in the entire logistics chain has been doing a commendable job. At the forefront are our truck drivers who are taking these vaccines to hundreds and thousands of vaccine centres across the country. So, now is the time to come forward and urge ourselves and everyone around to get vaccinated. That would be the best way to extend our gratitude to these carriers of hope.
Subscribe Now
Get updates on our latest blogs