HES Infra goes all guns blazing with Eicher tippers
The fast-growing Hyderabad-based company has been associated with Eicher since 2017 and currently has 55 Eicher tippers in its fleet
India is undergoing tremendous development as a developing economy. Engineering, architecture, quarrying and irrigation work have all been the key drivers of economic development. The key to the success of firms carrying out these massive projects is efficient resource transfer. Customers are looking for specialised vehicles such as tippers, RMC transit mixers and boom pump vehicles to ensure high efficiency, reduced operating costs and enhanced revenue.
The success story of HES Infra(P) Ltd. under the mentorship of IVR Krishnam Raju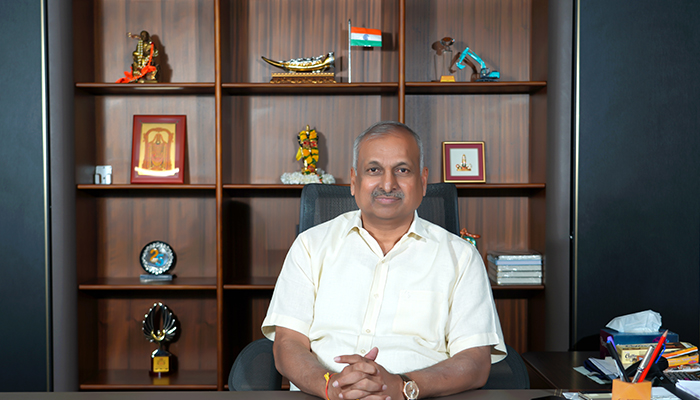 Hyderabad-based HES Infra (P) Ltd. is one such company carrying out large irrigation projects across the country. With activities across Andhra Pradesh, Gujarat, Maharashtra, Madhya Pradesh, Odisha, Tamil Nadu, Telangana, Uttarakhand and Uttar Pradesh, HES Infra is one of the largest diversified heavy civil contractors in the country. Talking to MOTORINDIA in an exclusive interview, I V R Krishnam Raju, Managing Director, HES Infra, said, "Since our foundation in 1997 we have been in the business of irrigation projects. However, the diversity of our projects has also been an important part of our business approach. Hence, we have successfully completed a wide range of civil engineering projects, including bridges, roads, aqueducts, road over bridges, railway bridges and irrigation projects such as spillways, canals, and tunnels."
"These projects across 4-5 major states like Telangana, Andhra Pradesh, Uttar Pradesh and Madhya Pradesh have helped us grow from a Rs 300-crore company to nearing Rs 2,000 crore today," he added. In collaboration with various state governments and civil work departments, the company has undertaken projects as massive as 10 crore cubic metres of earthwork. "Our focus is to undertake around 80% of projects in irrigation and we have been achieving that consistently. We have recently completed a dam near Jhansi in UP which was inaugurated by Prime Minister Narendra Modi," Raju informed.
Raju revealed: "We have 280 tippers, 29 dozers and graders, 97excavators, 20 compactors, 18 backhoe loaders and cranes. Out of this equipment, we have been associated with Eicher since 2017 and are using 55 of their vehicles right from Pro 6025T 16BB to Pro 8028XM 20BB. Today, we have approximately 3.5 crore cubic metres of work that can be carried out by these vehicles. We are convinced that thanks to the expertise of our partners like Eicher we will be able to execute these projects on time."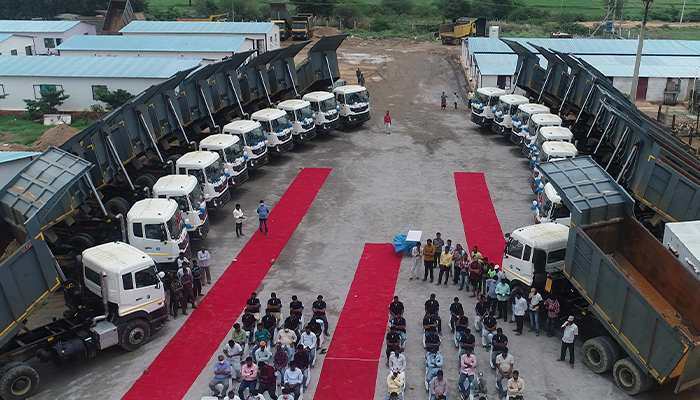 Higher Productivity with Eicher
HES Infra has been quite impressed with the performance of the Pro 8028XM 20 cubic metres box body and has already recommended it for fresh purchase. They have also been satisfied with Pro 8025T and Pro 6025T performance and service support from Eicher. Elaborating on how the Eicher trucks have resulted in higher uptime, Raju stated: "Eicher vehicles have improved our overall equipment's efficiency to 75% even in rainy seasons which usually clocked close to 40%. Prior to Eicher tippers, some of our trucks used to do 10-12 trips in a day (ideally 11-12 hours); today it does 20-22 trips and the breakdown of the overall vehicles has been less than 1%."
Another aspect that Raju feels has contributed to higher uptime is the onsite service engineer's availability by Eicher. "We do not have to worry about maintenance because, similar to Volvo trucks' site support model extended by Eicher, the latter's on-site personnel are well-equipped with spare parts, equipment and tools to ensure tipper uptime, which includes all scheduled maintenance and breakdown repairs."
"Such is the high quality of service that we have hardly faced any breakdown and the vehicles have been performing to their desired strength. We also have signed an annual maintenance contract (AMC) with the OEM and are immensely satisfied with their services," he added. All new BS VI-compliant Eicher trucks and buses are connected to the first-in-India Eicher Uptime Centre via cutting-edge telematics, which analyses each vehicle's performance in real-time. HES Infra's trust in Eicher vehicles is a source of tremendous pride for the company and it bodes well for their tipper segment in the infrastructure sector.
In addition to his entire engagement with Eicher, Raju emphasised the importance of Eicher's regular skilling and training programmes for drivers. Their programme's spectrum of perks and training for drivers in upskilling has been notably beneficial to drivers and their families. Eicher's focus on the drivers' surroundings and the drivability of trucks for many years has helped their customers recruit and retain experienced drivers. "Eicher helps our drivers perform a great job and trains them with their support systems, which make it easier for them to manoeuvre vehicles safely. Their driver training covers everything from handling trucks to driving in a fuel-efficient manner. Unless and until their manager is not satisfied, they do not give the driver a go-ahead to run the vehicle," Raju said.
Growing with the Support System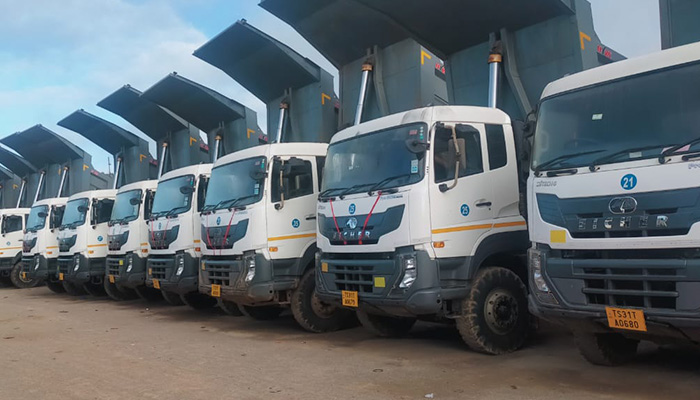 The past couple of years has been extremely difficult due to the pandemic. In order to undertake large infrastructure projects, HES Infra regularly requires workhorses that guarantee uptime and performance. Even though the company would have loved to have a stable price on the vehicles they purchase, fluctuating commodity price hikes make things difficult for both the stakeholders involved. Similarly, a steady cash flow would ensure that the projects are carried out on time.
Raju opined: "Because a few medium to small-sized companies in the infrastructure sector have defaulted on payments, banks lump all infrastructure companies together. We suggest that bank fund managers assess our performance and visit our facilities. Only when they see us investing in new trucks and equipment on a regular basis does their faith in us grow. At times, maintaining a constant stream of revenue might be difficult. At occasions like these, every ounce of fuel saved and every extra trip or task completed by the Eicher tippers offers us a buffer to complete the job on schedule. Eicher's exceptional product selection, which is specifically suited for the specialised infrastructural sector, proves their knowledge in this field."
Eicher tippers are designed to function in difficult and hard situations with best-in-class power to weight and torque to weight ratios as well as superior gradeability. Fuel coaching, IDIS (intelligent driver information system) and cruise control are among the intelligent features that contribute to increased productivity and improved fuel efficiency, hence bringing value to the customers' business. With such a robust support system in place, HES Infra now also wants to focus on acquiring projects related to national and state highways, tunnels and bridges. "There are several projects coming up by the central government as well as state governments which we are working on. These works along with the projects in irrigation and canals would help us clock a turnover of over Rs 2,000 crore and we are confident that we would be able to achieve the pre-pandemic numbers," Raju said.
Credit - We are immensely gratified to see Mr. I V R Krishnam Raju's trust in Eicher, and are thankful to MOTOR INDIA for publishing this success story.
Subscribe Now
Get updates on our latest blogs