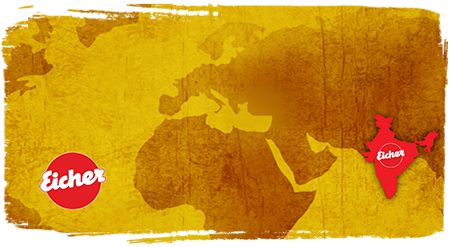 1948
The Goodearth Company is founded, a pioneer in importing and selling tractors in India.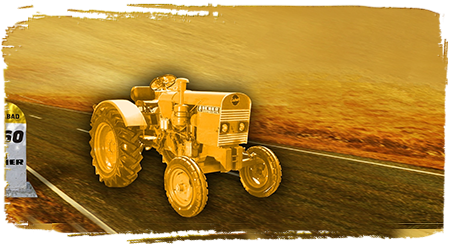 1959-60
Eicher Tractor Corporation of India Private Limited rolls out India's first indigenously manufactured tractor from its Faridabad plant.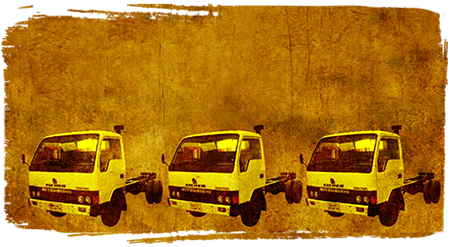 1982
Eicher Motors Limited forms a joint venture with Japan's Mitsubishi Motors Corporation to manufacture light commercial vehicles.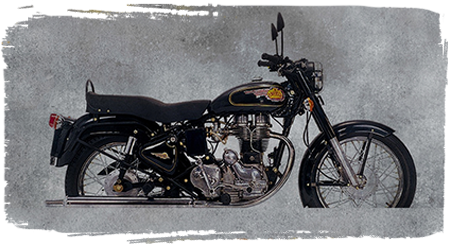 1993
Eicher acquires Enfield India Limited, manufacturers of the iconic Bullet motorcycle, and rebrands it into Royal Enfield.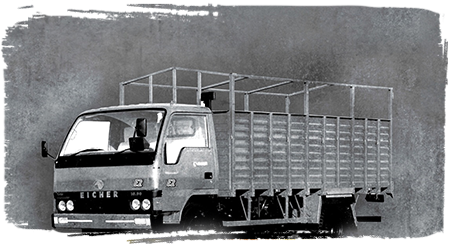 1994
Eicher redefines the medium duty truck landscape with path breaking 9-tonne and 12-tonne products.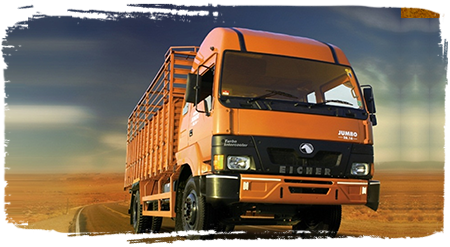 2002
Eicher Motors ventures into the high- potential heavy duty segment and launches the 16-tonne Jumbo truck.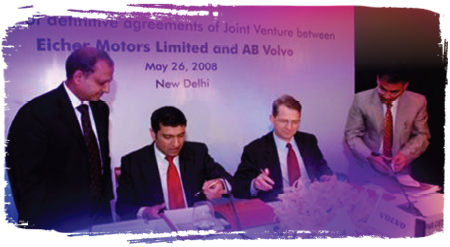 2008
The Volvo Group and Eicher Motors come together in a 50-50 joint venture to establish VE Commercial Vehicles Limited.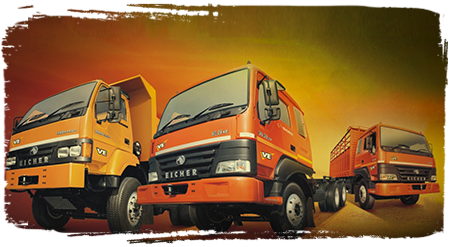 2010
VE Series of Eicher Heavy Duty trucks launched redefining the commercial vehicle space in India.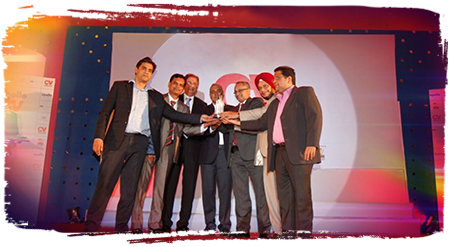 2012
VE Commercial Vehicles Limited wins the prestigious CV Maker of the Year award (Apollo CV Awards).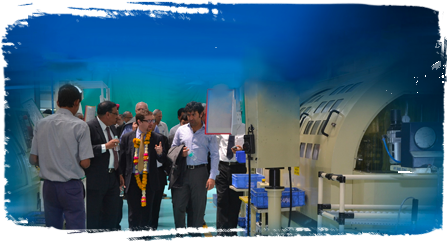 New Engineering Component plant, Bus Body plant, LMD line, Cab plant & Paint Shop set up at Pithampur, Madhya Pradesh.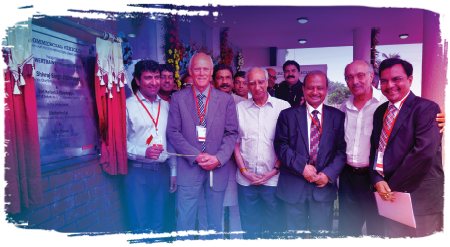 2013
Production starts at India's first Euro 6 commercial vehicles' engine manufacturing plant at Pithampur.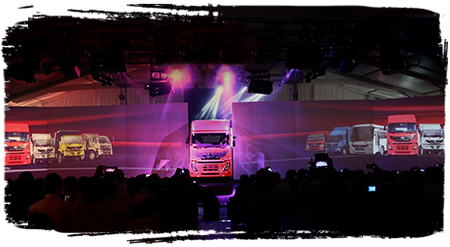 Unveiling the Future of Indian Trucking with Eicher's all-new Pro series of trucks and buses.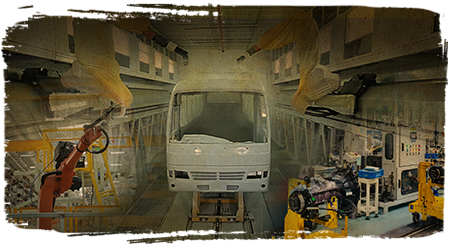 Addition of two new manufacturing facilities: Bus body plant at Baggad and Gear manufacturing plant unit II at Dewas.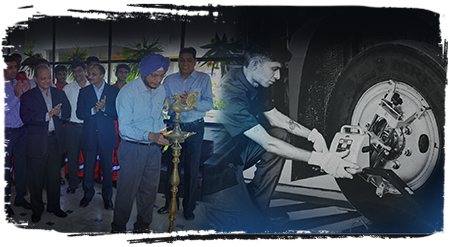 2014
Inauguration of Eicher Retail Excellence Center-ProXcellence Academy.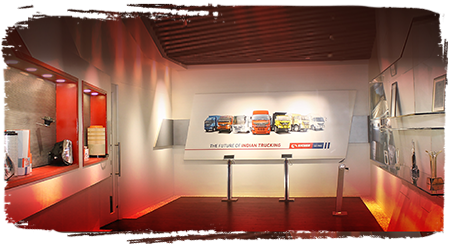 2015
Inauguration of 'Customer Experience Center' and 'Vehicle Display Center' at Pithampur plant.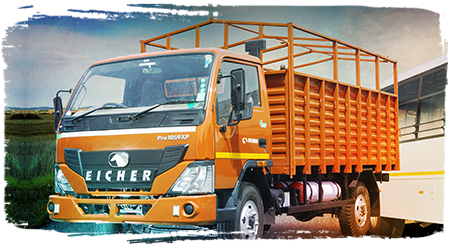 2016
Launch of vehicles with CNG engine technology.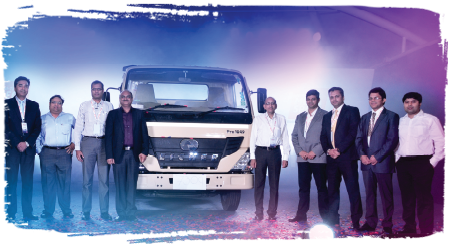 Entry into sub 5 Tonne segment with launch of Eicher Pro 1049.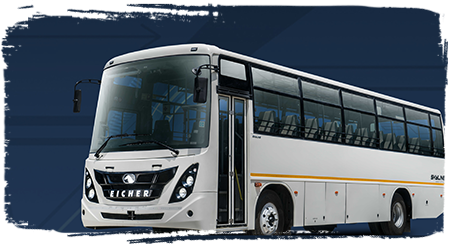 2017
Launch of indigenously developed Automated Manual Transmission technology.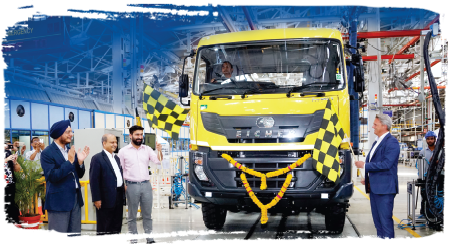 Successful technology transfer for flagship HD product Pro 8000 by Volvo Group to Eicher for manufacturing at Pithampur Plant.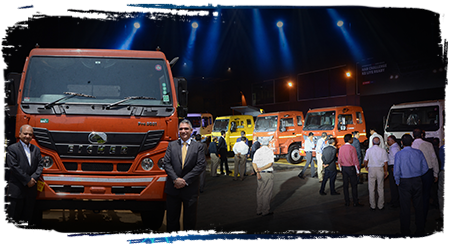 Successful introduction of BSIV product range with i3EGR and SCR technology - Pro 5000 series launch.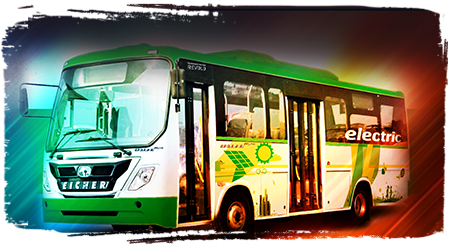 2018
Foray into zero-emission fully Electric bus.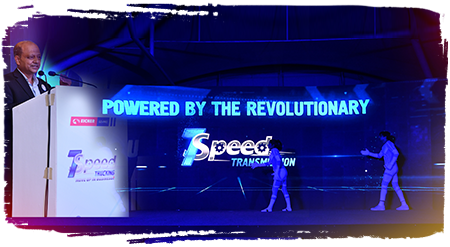 Launch of India's first 7 Speed technology in Light and Medium Duty Pro series trucks.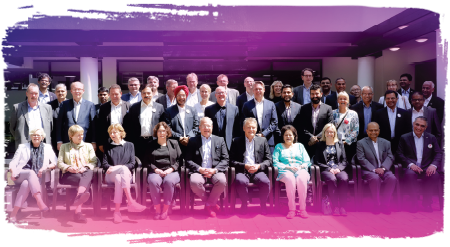 10 years of Driving Modernization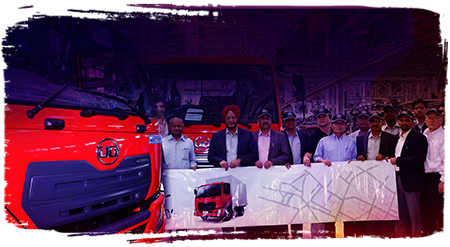 Entry into Indonesian market with UD trucks.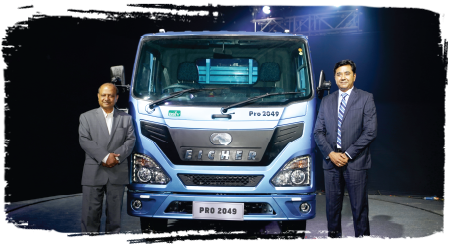 2019
India's first BS-VI Commercial Vehicles range unveiled - Pro 2000 Series of light & medium duty trucks.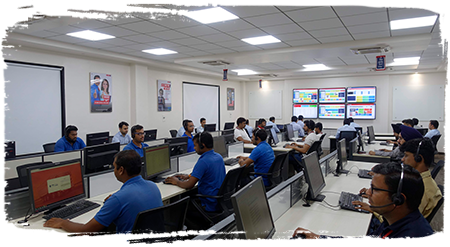 2020
Inauguration of India's first Uptime Centre with 24x7 service support & remote diagnostics.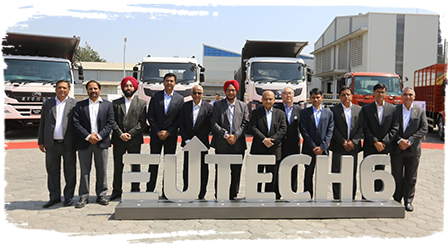 Unveiling of BSVI Range with Innovative EUTECH6 Solution.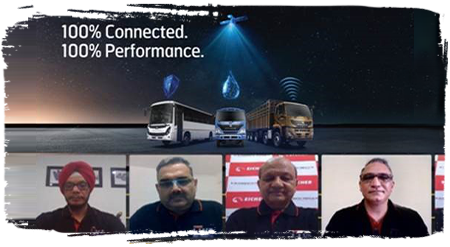 Eicher becomes the first company to offer 100% connected vehicles in the commercial vehicle industry in India.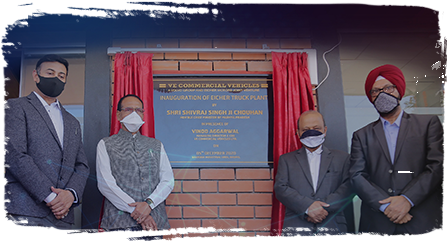 Production starts at state of the art Bhopal plant built with Industry 4.0 principles of a connected factory.
2021
Eicher establishes new standard in intercity luxury bus travel with new coach & sleeper platform.
Eicher introduces My Eicher, a holistic fleet Management app.